Old Mission Santa Inés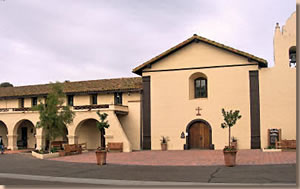 The Mission was founded on September 17, 1804 by Father Estevan Tapis, and was named in honor of Saint Agnes, an early Christian martyr of the fourth century. The Spanish for Agnes is Inés, hence the name of the church; the American Yankees anglicized the spelling of the Spanish pronunciation and named the town Santa Ynez.
The Mission, which commands a superb view of the Santa Ynez River Valley and the Santa Ynez and San Rafael mountain ranges, continues its central role in the spiritual and social life of the Santa Ynez Valley as an active parish church of approximately 1,000 families, and is administered by the Capuchin Franciscan order. We hold regular religious services as well as special services for baptisms, confirmations, weddings, and funerals. The Mission staff conducts religious education classes, youth groups, and various programs for adults.